Product Description
Overnight Sensation, Center Channel –  MMTMM by Paul Carmody
A compliment center channel for the Overnight Sensation TM or MTM version.  The shallow design makes it ideal for mounting under LCD screens.
Why Choose This?
This model is best for small rooms or where space is limited.  Small means inconspicuous, but it also means lower output.  You can't expect large SPL from 3″ drivers, but if you don't need the volume or have plenty of power, this Center will do the job.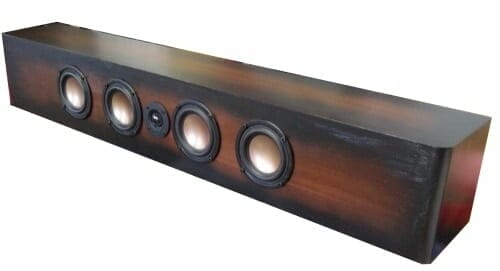 Why The Tweeter Choice?
Paul did the original TM design with the Dayton Audio tweeter. When that tweeter was out of stock for an extended period, Paul did a quick design using a similar Hi-Vi tweeter.
Which tweeter do you pick?  If you have an existing Overnight Sensation build with the Dayton tweeter, pick the Dayton to match.   The downside to this tweeter is that there are no screw holes in the mounting flange. You will need to glue it in place.  That makes it hard to remove.
The Hi-Vi tweeter has a 4 hole mounting flange and is less expensive.  I think Paul said he actually preferred this tweeter but they are really a toss-up.
How Does It Sound?
"I am exceptionally pleased with how this speaker sounds.  I even left it on mono and listened to music through it for a few days just 'cause it could do it."
This kit has everything you need to make a single speaker (except the wood for the cabinet).  A bare-bones version is available.  Professional assembly of the network is also available.
The suggested cabinet measures 5.25″ high x 5″ deep and 32″ wide.
When You Buy These, Here's What You Get:
Included in this kit are the full build plans.  You can purchase is in two forms, depending on your resources:
The Bare Bones Version:
This is a 6-Ohm system
4 x

B3N

, Mid Woofers
1 x Set Crossover parts, with Polypropylene capacitors, appropriate inductors, and sand cast resistors.
The Full Kit Package:
Crossover Mounting Boards
Choice of Input Terminals
All Mounting Hardware –  Screws.
Color-Coded Hook-Up Wire
Optional Push-on Connectors
 Damping Material
Full Build Plans
Have trouble soldering or reading a crossover diagram?  We can assemble them for you at a nominal charge.