Product Description
The Pit Vipers Loudspeaker Kit by Paul Carmody
A nice retro – vintage 3-way loudspeaker. Like vinyl, these Monkey Coffins are coming back in favor!
Paul's next step: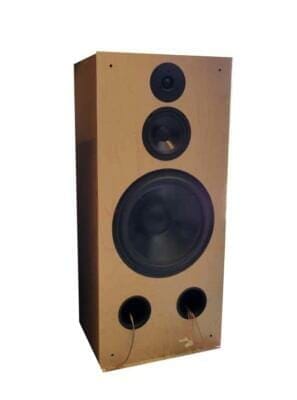 As long as I've been in this DIY hobby, I've noticed that the desire for guys to build Monkey Coffins never went away. If anything, I think there's somewhat of a void in the hobby. What I mean is, as much as guys claim to want to build a pair, I don't really see many unapologetic big, fun speaker designs out there–at least not when you compare it to something like, say, a bookshelf 2-way. So after all these years, I'm tossing my hat in the ring. Here we go!
The Drivers
The heart of a big ol' floor-standing speaker should be the woofer. And when we're talking about Monkey Coffins, that means something around 10″ – 12″. I looked all over the market for something that struck the right balance between low bass extension, high-ish sensitivity, and price. What ultimately drew me to the Dayton SD315 is that while it's technically sold as a "subwoofer," it has the higher sensitivity and midrange response of a big, paper woofer. And while I admit that it's not cheap, the sad truth is that not many 12″ woofers are. At least not any that you'd actually want to use in a half-decent speaker. Consider this putting money where it matters most here.
Now, since I knew that my nice, big woofer was going to get us an efficiency around the 88-90 dB range, it actually posed a bit of a challenge of finding a suitable 5″ mid. I was surprised to find out that most mid-woofers currently available do not have the efficiency to keep up. The choice ended up being between the classic DC130b-4, or a dedicated Pro Audio mid. I chose the DC130 because of its stellar reputation in DIY designs over the last 15+ years, and also because it matched the same aesthetic as the Dayton woofer.
Finally, for the tweeter, I knew I wanted something with a 1″ dome and a 4″ flange, like the Vifa, Peerless, and Seas tweeters we've all come to love so much over the last 20-25 years. When I saw the Peerless D27, I just knew that was what I was after.
The Crossover:
The crossover here is relatively simple.
The woofer uses a 2nd order electrical filter with C4 acting as a notch (or "tank" filter).
The mids are all 2nd order electrical, with padding resistors (R2 and R3) on either side.
Finally, the tweeter is gracefully simple, with only 3 parts. It's a 2nd order electrical filter, with a single padding resistor.
How does it sound?
This is a FUN speaker to listen to–which OK, was one of my initial goals. But it's so much more than just a party speaker. Obviously, with a pair of 12″ woofers, you're going to get gobs of bass for most any average-sized room. And with an F3 in the mid-30 Hz range, it will handle pretty much all musical content you can throw at it.
As I mentioned with the Tarkus, the real bonus of using large woofers is the sense of separation you get with instruments in the bass range. The bass guitar (or bass synth) is clearly separate from the bass drum–which itself you'll notice has a complex timbre.
The midrange is ideal for rock and pop and country and never becomes fatiguing. Voices sound natural and lifelike–which honestly is amazing, given the relative value price of the Dayton DC130.
The tweeter exceeded my expectations here. When I first measured it, I was slightly concerned because its response didn't look all that flat. But sometimes you luck out with certain tweeters. That is, their unique dips and bumps can really lend themselves well to recorded music. (I've mentioned this many times before about the Vifa/Peerless DX25) The Peerless D27 tweeters here allow for fantastic imaging, and never become shrill or harsh, even when you're shaking the walls over 100 dB.
What do I get?
We start you off with really good crossover components.   We give you brand options for both.
Here is what you get in the Bare Bones Version:
2 x  Peerless D25TG35-6 Tweeter

2 x Dayton DC130-4 Midrange
2 x Dayton, SD315-88, 12″ Sub Woofer
Crossover parts – MDL tweeter cap. is standard and you can choose other brands. The large value Mid and Woofer caps are NPE
Ceramic resistors – can choose other brands.
Specified Inductors
Build Plans – A better cabinet drawing than what Paul shows.
The Full Kit option includes:
Color-coded Internal Hookup Wire
You can choose your Input Terminals
Internal acoustic  Damping materials
Port Tubes
Quick disconnects – a choice
Mounting Hardware – choices
Crossover Mounting Boards with solder tabs
Optional   cardboard cylinder back chambers
Have trouble soldering or reading a crossover diagram?  We can assemble them for you at a nominal charge.