Product Description
The "Helios" Loudspeaker Kit by Jeff Bagby and Javad Shadzi  
After the design collaboration with Javad on the Jintani speaker, it was now Jeff's turn to build out his concept speaker using a new waveguide tweeter from SB Satori.  Large two ways aren't seen much due to the lack of tweeters that can cover the range to meet with an 8-9″ woofer, but SB Acoustics had been working on a new waveguide design mated with their beryllium tweeter.
The Drivers.
As above, the tweeter is the Satori, TW29BNWG – a Beryllium dome mounted to a massive, solid aluminum waveguide.   The woofer chosen is the Satori, WO24P-4 woofer and low-frequency tuning is handled by an SB Acoustics 10″ passive radiator.
"I wanted the speaker to be a stand-mounted model of reasonable size, this presented some problems with the bass alignment, but I resolved those by using a novel bass loading system that I used on the Testarossas several years ago. I can't say that no one has ever done this before, but I have not seen anyone else do this before, at least not in the way I am.  In some ways, it may sound counter-intuitive, but you will see how it works to give us some of the best bass you will hear in a stand-mounted speaker like this. For a speaker just over one cubic foot of volume to reach into the low 30's with very low distortion at the same time is really quite remarkable"
The Crossover
My goal with a crossover network is to make every part accomplish as much as possible, sometimes multiple things. I look at a crossover holistically, with every part working together, so that I can reduce the parts count as much as possible. I am not a minimalist where crossovers go, but I don't like the idea of throwing a load of parts at the speaker either if I can accomplish all of my goals with fewer parts.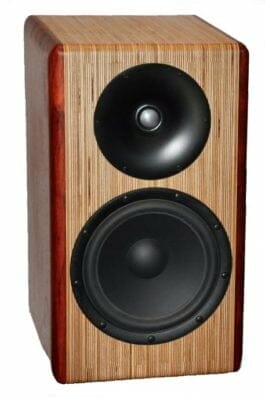 I decided to pursue a fourth-order L-R acoustic crossover because 4th order roll-offs are the natural result with these drivers and crossovers, anything less leads to too shallow of the circuit, and an L-R crossover with good phase tracking tells us that the highest summation point is directly on the tweeter axis, so there is no risk of any peak in the response above this level on any other axis, above or below the tweeter. Allowing the two drivers to talk to me, it was apparent that the best crossover was going to be in the 1100-1400 Hz range. I started on the lower side of this range, but the best phase tracking was in the 1250-1300 Hz range. After adjusting the top octave balance the crossover point ultimately came in right at 1300 Hz. Remember, crossovers are acoustic. They have nothing to do with textbook circuit shapes. Circuits, whether passive or active are there to optimized to acoustic responses when combined with the driver.
The Bass Alignment
When working with a speaker this size with a larger woofer like the Satori WO24 the bass alignment becomes tricky. To compound the situation, the Qts of the woofer with wiring comes in at .42, and a Qts this high pushes up the required volume of the cabinet quite a bit from low Qts drivers. The 35 liters works out to sealed Qtc right at .7, which is maximally flat with the lowest F3 for a sealed alignment. Of course, we might be able to get deeper bass from the speaker vented, but there are two problems with that – First, the volume is too small for a bass alignment that does not possess some level of peaking. The peaking, however, might not be considered objectionable by most people since it would be a broad smooth rise, but it's still not flat. And second, the required port diameter for the WO24 would result in a port too long to work with this enclosure effectively
My solution was to do something I came up with on the Testarossas that proved to be more successful than I expected. I called it at the time a Quasi-Transmission Line loading. I called it this because both the impedance curve and the box response curve were nearly identical to what you get with a heavily damped transmission line. This was accomplished by using a passive radiator that tunes the enclosure to a very low frequency, even below 20 Hz. The reason it worked really well on the Testarossa was that I found that this type of tuning worked miracles on controlling cone travel, and the MW16P woofers have a very compliant suspension and this additional control was a great benefit, as the cones stayed under control instead of bouncing around excessively.
How Do They Sound?
I played a number of songs that I use for voicing speakers to see if I would change anything. It all sounded fabulous: vocals were perfect, the treble was balanced, the bass was beautiful – articulate, deep, honest, without bloom, just as intended. This is the first time that I have used a waveguide of this type – a large round one with a dome tweeter. Even though I normally toe-in my Spiritwinds and Continuums, I found I liked the way the Helios covered the room best when they were aimed straight ahead. Despite the size of the drivers, this set-up spread a beautiful panoramic power response. people are used to the bloom, or boom that can come from some vented systems working within the typical room when its room gain is factored in. These speakers are designed to work with the room.
Sometimes it seems like the bass isn't that powerful or extended until you come across some real bass in the recording, and then there it is! deep, clean, detailed. And at times, much more impressive than I expected.
So how do they compare with the Spiritwinds? Well, first of all, they are twice the size with a larger woofer and my measurements showed that they are flat to 30 Hz when taking close-mic measurements of the cone and passive radiator. The smaller Spiritwind is flat to 40Hz, and this difference is enough to get your attention when playing music. They can play louder than the Spiritwinds too. Their distortion is lower, but the Spiritwind distortion is very low and both are probably inaudible except under extreme conditions. The directivity and the power response is smoother than the Spiritwinds too. So, in these areas, I would give the nod to the Helios, and probably give it the nod overall as well. The Spirit Winds still do some very special things, especially the near-perfect timbre in the high end when listening to hats or a ride being played softly. The Helios may do this too, but I haven't got there yet. But remember, both these speakers use expensive top-of-the-line drivers and both have a very flat response, so in some areas, as I said above, I am splitting hairs. The Helios is bigger, more extended, with higher output, and excellent directivity, but for many people, they may be too large, in which case the Spiritwind may be the better choice. And, when I have the sub dialed in, these speakers can sound more alike than different. Again splitting hairs.
Well, from a technical perspective it is the best measuring and least flawed of any speaker I have designed. There are some speakers that keep up in some areas, but not in all of the areas that the Helios hit is out of the park. Besides the flat response and amazing polar response, this speaker has distortion so low I found it difficult to measure. And then there's the bass response. Wow, such purity and power at the same time. So, if this the best speaker I have designed? Yes, I believe it is. After listening to it in my home for a few weeks I became more convinced of that than ever. And when I put the Spiritwinds back on and they left me wishing for the Helios, I knew for sure then. I would put these speakers up against anything, and I would hold my head high. I just have to find a way to out-do them now. Boy, I can set the bar really high for myself at times."
I always thought I'd see him again.
My last conversation with Jeff was about this kit.  I wasn't sure on the wire gauge of the tweeter inductor and thought he could pop the PR and take a look.  Jeff answered,  "I can't – I just sold them. " I really wish I hadn't."
When you buy these, here is what you get:
You can purchase is in two forms, depending on your resources.
2 x Sator TW29BNWG waveguide tweeter
2 x Satori, WO24P-4, woofers
2 x SB Acoustics, SB29NRX-00 Passive Radiators
2 x Crossover parts, Standard Capacitors are Audyn Q4 on tweeter and Clarity PX on the woofer. You can upgrade the tweeter Capacitors, Sand cast resistors are standard, but you can also upgrade resistors.

2 x Jeff's specified air-core inductors.

Complete plans –
The Full Kit Package:
2 x Choice of the Input Terminals 

(Big Posts are shown in photo)

All mounting hard hardware (screws)
Internal damping material
Color-coded hookup wire
Optional push-on connectors
Gasket sealing tape
MDF boards for mounting the crossover parts.
Upgrade Your Series Capacitors?
There are a great number of brands to choose from.  Don't see your favorite, just ask.
Have trouble soldering or reading a crossover diagram?  We can assemble them for you at a nominal charge.